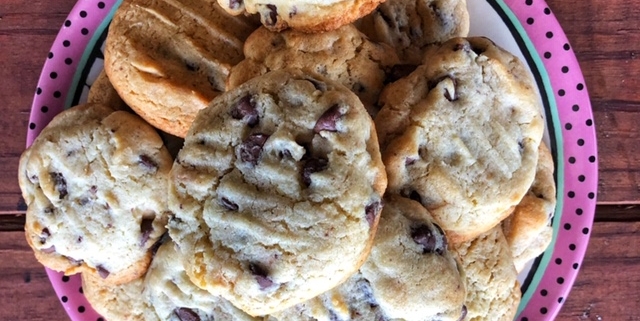 The world is going through a lot right now and finding what helps you cope with that is important. I have been finding myself doing a lot of different things during this time at home due to covid-19. I have rested, watched TV and movies, walked my dog, done yoga, organized and cleaned my house, learned a magic trick, called family and friends, played board games, and baked! Last weekend I baked some blueberry muffins from scratch and this weekend it was these delicious chocolate chip cookies from anitalianinmykitchen.com!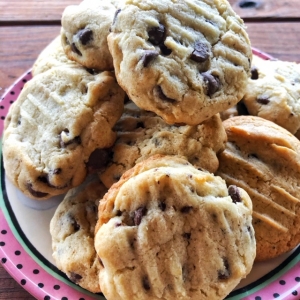 Baking to comfort ourselves during stressful and unknown times is okay and FUN and can be part of Intuitive Eating. The process of baking and the final product can be a source of comfort. I find that baking is a mindful experience and it can help me clear my head, focus on something, and potentially be creative. Then the final product, a sweet and chewy cookie or a light and fluffy muffin, provides us with comfort. Maybe it is nostalgia from past experiences with that food or just the dopamine released from eating it that makes us feel good. I have always loved baking and honestly hadn't been making much time for it as of recently so am loving the ability to do that more now!
I know having cookies and other dessert type snacks/foods can be hard for a lot of people to have in the house. Whether you have an eating disorder or have been chronically dieting it can lead to some feelings of being out of control. I know it is scary, but the only way to work through that is to give yourself unconditional permission to eat all foods and work on listening to your body. This is one of the Intuitive Eating principles and something I have talked about in previous blogs if you are interested! If you find yourself struggling with this we at Balance Nutrition Counseling, PLLC would be happy to help, you can contact us here!
Here is a quick tip for storing baked goods! My husband isn't a big sweets eater and it is just us two in the house so I have put some of my muffins and will probably end up putting some of the cookies in the freezer so they don't go bad before I can eat them all. To prevent freezer burn I just wrap them tightly in plastic wrap and then put in a container. If you end up eating all of them don't fret either, that is also okay! I have a lot of different snack and dessert options at home right now so may just not get to all the cookies or I might, we shall see. That is the joy in Intuitive Eating, I don't have to decide now! So now on to the recipe, which again came from anitalianinmykitchen.com!
Ingredients:
1/2 cup softened salted butter (I just took my stick of butter out of the fridge a few hours before I wanted to make the dough and set it on the counter to soften)

1 cup sugar
1 egg beaten
1 teaspoon vanilla
1 3/4 cups all purpose flour
1/2 teaspoon baking soda (I actually did not have any baking soda so substituted baking powder instead, to do this you do 3x the baking soda amount — therefore I did 1 1/2 teaspoons baking powder)
1 pinch of salt (I used unsalted butter because it was what I had on hand so did 1/4 teaspoon of sea salt)
1 cup chocolate chips (you can use any variety you like, I used semi-sweet)
Instructions:
In the bowl of a stand up mixer, using the flat beater cream the butter and sugar (about 2-3 minutes), add the egg and vanilla beat until combined. Side note: You could do this in a bowl with hand mixer if you don't have a standing mixer.
In a medium bowl whisk together flour, baking soda and salt, then whisk in the chocolate chips.
To the creamed mixture add 1/3 of the flour mixture at a time, beating on low just until combined. Turn onto a lightly floured flat surface (I used a wooden cutting board), knead gently a few times until combined and form into a ball. Wrap ball in plastic wrap. Chill in the fridge for 1-24 hours (I let mine sit for 2 hours).
Remove the dough from the fridge and preheat oven toe 350 degrees F, shape into large golf ball sized balls and place on parchment paper lined cookie sheets (I didn't have parchment paper so just lightly greased baking sheets), flatten with a fork (can lightly dip fork in flour so it doesn't stick to cookie dough).
Bake cookies for approximately 15 minutes. Let cool and enjoy!
Wish you all health and peace during this time!
https://balancenutritioncounseling.com/wp-content/uploads/2020/03/IMG_1262.jpg
640
640
Melissa Giovanni, MS, RDN, LDN
https://balancenutritioncounseling.com/wp-content/uploads/2019/01/logo-350x197.png
Melissa Giovanni, MS, RDN, LDN
2020-03-29 08:37:47
2020-03-29 08:37:47
Baking For Comfort During A Global Pandemic