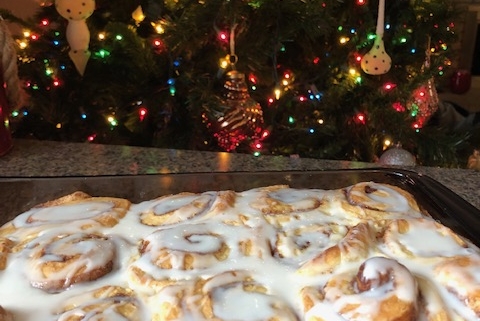 I love cinnamon rolls. I have been on the hunt for a delicious cinnamon roll recipe for awhile now and have tried several different ones over the years. I have to say that this recipe from sallysbakingaddiction.com is my favorite! She has perfected the recipe and in my opinion these are actually better than any overnight cinnamon rolls I've made in the past. This recipe is definitely a keeper in my book and I will be making them again soon! Let me know if you try them!
---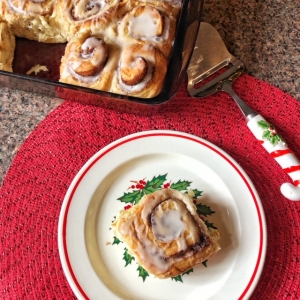 Ingredients:
For the rolls
2 and 3/4 cups all-purpose flour
1/4 cup granulated sugar
1 teaspoon salt
2 and 1/4 teaspoon instant yeast (1 packet)
1/2 cup milk (I used skim because that is what my parent's had at their house, but you could use any kind)
1/4 cup water
3 Tablespoons unsalted butter (I actually ended up using salted because that is all we had on hand)
1 large egg
For the filling
3 Tablespoons unsalted butter, softened to room temperature
1 Tablespoon ground cinnamon
1/4 cup granulated sugar
For the icing
1 cup confectioners' sugar (powdered sugar)
1/2 teaspoon pure vanilla extract (I actually used artificial vanilla because again that was on hand at my parent's house)
2-3 Tablespoons milk or strong coffee (I used 2 Tablespoons milk)
Instructions:
Make the dough
1. Whisk the flour, sugar, salt, and yeast together in a large bowl and set aside.
2. Combine the milk, water, and butter together in a heatproof bowl. Microwave or use the stove (I used the stove) and heat until the butter is melted and the mixture is warm to touch. Pour into the dry ingredients, add the egg, and stir until it forms a soft dough or use your mixer.
3. On a lightly floured surface using floured hands, knead the dough for about 3 minutes. Place in a lightly greased bowl (I used non-stick spray), cover loosely, and let rest for about 10 minutes.
Fill the rolls
4. After 10 minutes, roll the dough out in a 14×8 inch rectangle (this doesn't have to be perfect, mine was more like a square honestly). Spread the softened butter on top. Mix together the cinnamon and sugar. Sprinkle it all over the dough. Roll up the dough tightly. Cut into 10-12 (I ended up with 11) even rolls and arrange in a lightly greased (again I used spray) 9-inch round cake pan or pie dish (I used a rectangle dish because that is what my momma had!).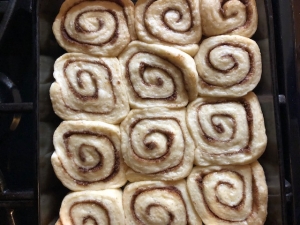 Rise
5. Loosely cover the rolls with aluminum foil and allow to rise in a warm, draft-free environment for 60-90 minutes. (This threw me for a loop, but sallysbakingaddiction.com provides a great tip of turning your oven on for about 150 degress F and then cracking oven open, shutting it off after heated up and leaving the cinnamon rolls in there to rise.)
Bake the rolls
6. After the rolls have doubled in size, preheat the oven to 375 degrees Fahrenheit. Baked for 25-28 minutes (I did 25 minutes) until lightly browned. If you notice the tops are getting too brown too quickly, loosely cover the rolls with aluminum foil and continue baking.
Make the icing
7. Whisk the confentioners' sugar, vanilla extract, and coffee or milk together. Drizzle or spread over the warm rolls.
Enjoy!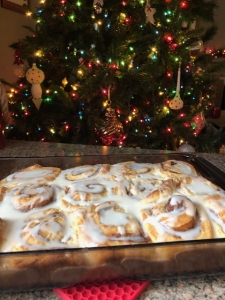 https://balancenutritioncounseling.com/wp-content/uploads/2019/12/IMG_0355-e1575297644889.jpg
640
480
Melissa Giovanni, MS, RDN, LDN
https://balancenutritioncounseling.com/wp-content/uploads/2019/01/logo-350x197.png
Melissa Giovanni, MS, RDN, LDN
2019-12-02 18:02:39
2019-12-02 18:02:39
Cinnamon Rolls