Spring is here!!! That means the flowers are starting to bloom (depending on where you live – they are here in Nashville), the sun is shining more, and food preferences may start to shift. In the winter months I tend to love lots of crockpot meals, casseroles, warm and comforting dishes. Then once spring starts I find myself wanting more cold foods, grilled food, salads and different fresh fruits and veggies! My favorite things to grill outside are burgers and margarita pizza! If you have never grilled pizza, give it a try! I swear you won't be disappointed. There are so many spring foods and recipes I love, but here are two of my favorites to help you get in the mood for spring!
Strawberry Shortcake
(Recipe from Foodnetwork.com)
Ingredients:
1 ½ pounds strawberries, stemmed and quartered
5 Tbsp. sugar
2 cups all purpose flour
2 tsp. baking powder
¼ tsp. baking soda
2 Tbsp. sugar
¾ tsp. salt
1 ½ cups heavy cream
*Note: sometimes when I don't have all the ingredients or just want a quick go to biscuit I will use Bisquick and follow their recipe and it is super yummy too!
Whipped cream (or when I don't feel like making this I just buy the good ol redi whip cause it's delish):
1 ½ cups heavy cream, chilled
3 Tbsp. sugar
1 ½ tsp. vanilla extract
1 tsp. freshly grated lemon zest
Directions:
Mix strawberries with 3 Tbsp. sugar and refrigerate at least 30 minutes
Preheat oven to 400 degrees F
Stir together the flour, baking powder, baking soda, remaining 2 Tbsp. sugar, and salt in a medium bowl. Add heavy cream and mix until just combined. Place mixture in an ungreased 8-inch square pan and bake until golden brown, 18-20 minutes
Remove shortcake from pan and place on a rack to cool slightly. Cut into 6 pieces and split each piece in half horizontally.
Spoon some of the strawberries with their juice onto each shortcake bottom. Top with a generous dollop of whipped cream and then the shortcake top. Spoon more strawberries over the top and serve! Enjoy!
*To make whipped cream: using a mixer, beat the heavy cream, sugar, vanilla, and lemon zest until soft peaks form, about 1.5-2 minutes.
---
Caprese Salad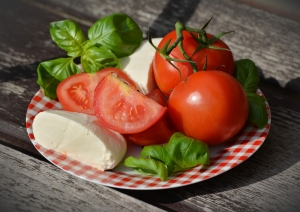 Ingredients:
3 large tomatoes, sliced
1 package of fresh mozzarella cheese, cut into ¼ inch thick slices
¼ tsp. salt
¼ tsp. ground black pepper
½ cup fresh basil leaves
¼ cup extra-virgin olive oil
Balsamic vinegar glaze/reduction (to taste)
Directions:
Arrange slices of tomatoes and mozzarella cheese alternating on a serving platter. Sprinkle with salt and black pepper, spread fresh basil leaves over the tomatoes and cheese, and drizzle with olive oil and balsamic reduction/glaze
Let me know if you make these and what your favorite spring inspired food is!! Enjoy!
---
We'll get back to the Intuitive Eating series on the blog next week!
As always if you have nutrition questions or feel you may need to meet with a dietitian you can contact me here!
https://balancenutritioncounseling.com/wp-content/uploads/2019/03/joseph-gonzalez-111633-unsplash.jpg
3507
5194
Melissa Giovanni, MS, RDN, LDN
https://balancenutritioncounseling.com/wp-content/uploads/2019/01/logo-350x197.png
Melissa Giovanni, MS, RDN, LDN
2019-03-22 09:26:24
2019-03-22 09:26:24
Spring Recipes!